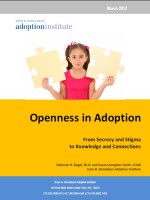 This report is the first in a series the Institute plans to publish that will address the phenomenon of openness in domestic infant adoptions. It summarizes research knowledge on the topic and presents findings from a survey of 100 infant adoption programs in the U.S. regarding their practices around openness and the qualities that facilitate successful open adoption relationships. The institute is also in the final stages of preparing a related curriculum for pre-adoptive parents and expectant parents considering adoptive placement for their children.
Policy & Practice Perspectives are research-based publications that focus on important and timely issues in the field. This report was researched and written by Dr. Deborah H. Siegel, Professor of Social Work, Rhode Island College, and Susan Livingston Smith, Program and Project Director of the Evan B. Donaldson Adoption Institute. It was edited by Adam Pertman, Executive Director of the Institute. We are deeply grateful to several graduate student interns who assisted with this research – Rebecca Knickmeier, Sarah Malloy-Good and Preeti Vissa. We also appreciate the assistance of several adoption scholars and professionals who reviewed this paper and provided research and editorial assistance. They include Dr. Ruth McRoy, Leslie Pate Mackinnon, and Dr. Harold Grotevant.
Send questions and comments to info@adoptioninstitute.org.
All contents (c) 2012 by the Evan B. Donaldson Adoption Institute.