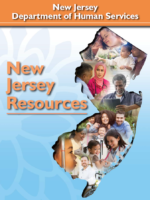 We are excited to bring you the 2022 New Jersey Resources Directory! The guide is a
comprehensive resource identifying the various programs and services the Department of
Human Services offers to New Jersey residents, caregivers and advocates.
In this guide, a family can find out more information on how to apply for food, income
and employment assistance, as well as health care and much more. A caregiver can get
information on support programs and services to assist them in caring for their loved ones.
And individuals with disabilities and their families can get information on various services that
include in-home supports, vocational rehabilitation, and education.
If you have any questions or need further assistance, you can reach our certified Information and
Referral specialists through the Division of Disability Services toll-free at 1-888-285-3036.