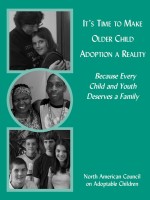 The number of youth who age out of foster care has risen steadily over the past decade, even in the wake of increased efforts to achieve permanence for all children in foster care.
For far too many youth, aging out of care results in homelessness, work instability, and a lack of stable, loving relationships with adults. These grim facts are even more heartbreaking because we know these youth could have found a permanent family, if only they had been given the chance.
Younger foster children have a much better chance of finding a permanent family. Once waiting children in foster care are nine or older, they are much less likely to be adopted.  About 43 percent of waiting children are nine or older, but 72 percent of those who are adopted are under age nine.  The average age of children when they are adopted from foster care is 6.6 years, while the average age of waiting children is 8.2 years. The average waiting child has been in foster care for more than three years.  Every day that a waiting child remains in foster care, his chances of being adopted decrease.
Published by:
North American Council on Adoptable Children