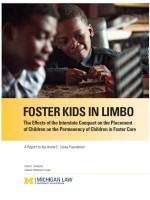 EACH YEAR, child welfare agencies make over 40,000 requests for home studies to determine whether children in foster care can
be placed with parents, relatives and others living in another state.
Each of these requests is governed by the Interstate Compact on the Placement of Children ("ICPC"), a uniform law adopted by every state to coordinate the placement of foster children in other states. Under the ICPC, a child can only be placed in foster care in another state after the receiving state conducts a home study and approves the proposed placement.