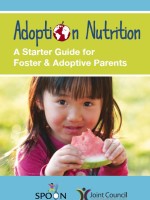 Inside you'll find everything we wished we'd known to help you assess your child's nutritional needs, and to nourish your little one back to optimal well-being in your care.
Be Happy! Be Healthy!
Cindy Kaplan and Mishelle Rudzinski
Co-Founders of SPOON Foundation
This guide is a cooperative effort between SPOON Foundation and Joint Council on International Children's Services, nonprofit organizations dedicated to improving the lives of orphaned, fostered and adopted children.
www.spoonfoundation.org | www.jointcouncil.org