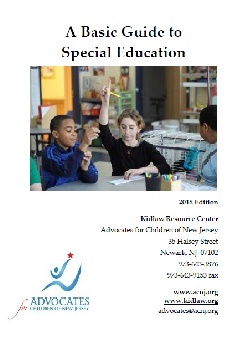 A Basic Guide to Special Education
This guide is intended as a reference for people who have questions
about special education for a child. It summarizes the basic procedures,
services and rights of children to an education and represents current
federal and state laws and regulations. It is not intended to offer advice
or legal guidance. For an expanded, legally-grounded explanation of
any aspect of the special education process, parents/caregivers should
contact Advocates for Children of New Jersey's Kidlaw Legal Resource
Center. Staff attorneys can provide printed information and limited
personal assistance to individual parents/caregivers. Spanish
consultations are available.
Contact:
Nina Peckman, Esq. (speaks Spanish)
E-mail: npeckman@acnj.org
Phone: 973-643-3876
Fax: 973-643-9153
The Kidlaw Resource Center offers information, assistance, training and
legal publications about the rights of children. The center provides free
fact sheets, manuals and other information. Staff is available to provide
presentations and training on children's legal rights to community
groups and professionals. Visit www.kidlaw.org for more information.
Published by Advocates for Children of New Jersey
35 Halsey Street
Newark, New Jersey 07102.
Cecilia Zalkind, President & CEO
Mary Coogan, Vice President
Robert Sterling, Chair, Board of Trustees
Copyright © 2018 by Advocates for Children of New Jersey
All rights reserved.