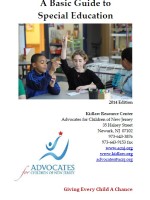 This short pamphlet is intended as a reference guide for people who are about to address a child's educational development in the realm of special education. It is not intended to offer advice or legal guidance. For an expanded, legally grounded, explanation of any aspect of the special education process, parents/caregivers are encouraged to contact the Children's Legal Resource Center.  ACNJ staff attorneys can provide printed information and limited personal assistance to individual parents/caregivers. Spanish consultations are available.
Contact:
Kit Ellenbogen, Esq.: Kit@acnj.org
Nina Peckman, Esq. (speaks Spanish): npeckman@acnj.org
Phone: 973-643-3876 Fax: 973-643-9153
Visit www.kidlaw.org for additional materials on children's legal
rights in education and other areas.
Published by the Advocates for Children of New Jersey,
Newark, New Jersey 07102.
Copyright © 2014 by Advocates for Children of New Jersey
All rights reserved.
New toll Statewide Toll Free Referral Number 888-653-4463
Supplemental Information:
SFY 2011Hourly Co-pay Family Cost Participation Tables
The Early Intervention System
http://nj.gov/health/fhs/eis/index.shtml
Para la versión en español haga clic Aquí