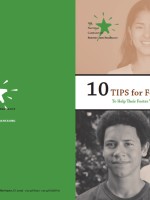 The good news for parents and other caring adults,
including foster parents, is that there is much they can
do to help influence their children's decisions about sex.
Foster youth say they want to discuss sex, love, and relationships
with their foster parents, but some are embarrassed or feel
uncomfortable starting the conversation. The same holds true
for foster parents. They often don't know what to say, how to say
it, or when to start. This guide offers some ideas to help foster
parents strengthen their relationships with foster youth. It also
offers some ideas on how best to communicate about sex, love,
and relationships.